CORLEY PEOPLE - We are gradually bringing together a collection of old photographs of people who lived in Corley.
NAMES: If you recognise any of the people in the groups - please let us know.
*If you have old photographs we can scan and copy, please contact Susan Moore. Tel. 07745 144 922. All photographs are returned to owner. Not all the photographs have names/details of the people. If your know their names or have more information, please let us know.
Above: Tom Smith, Burrow Hill Farm. If you have more information about Tom Smith, Burrow Hill Farm or any other history or photos we can borrow of Fillongley or Corley, please email: fillongleypub @ btinternet.com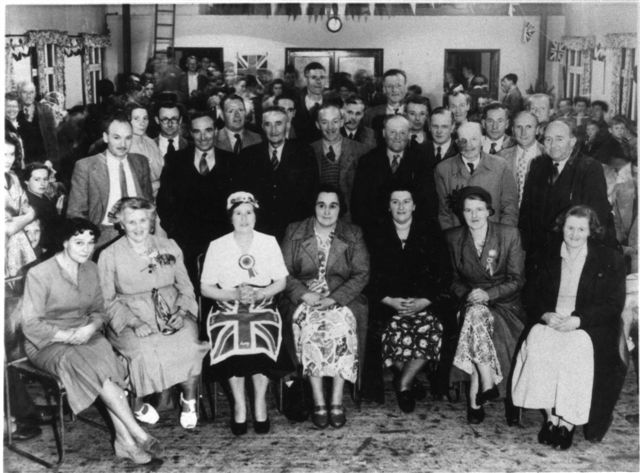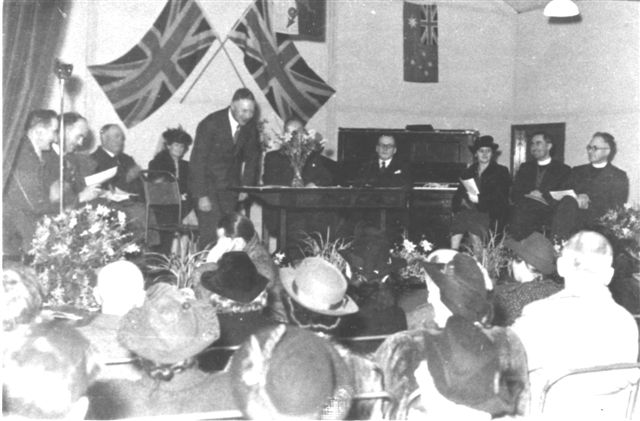 Above: 1947 Opening of Corley Village Hall, with Lord Leigh.
Below: Party at the Saracen's Head for Harvest Festival.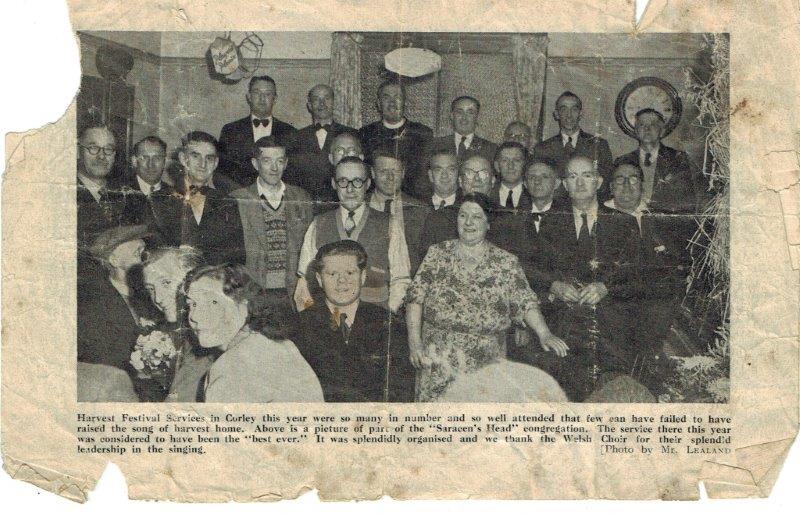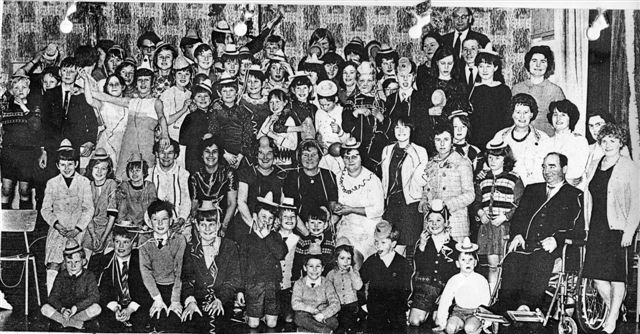 Above: Corley & District Pony Club, 1st Christmas Party at Corley Village Hall.
Below: No information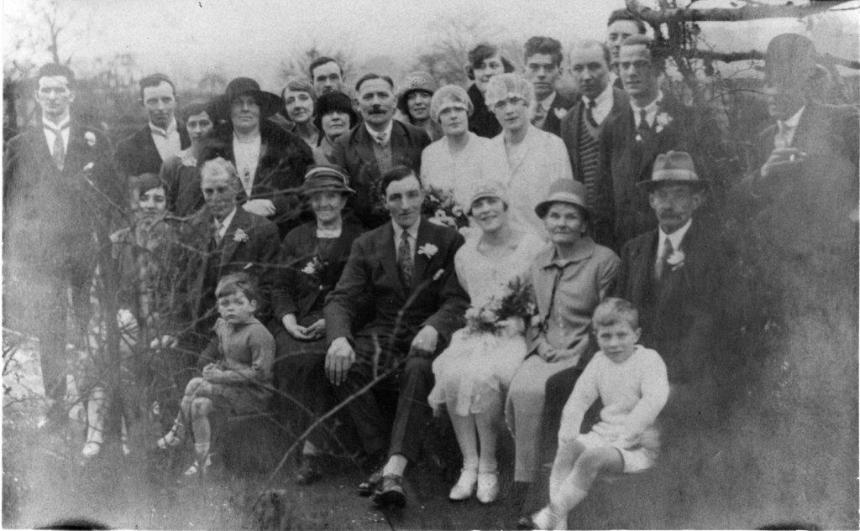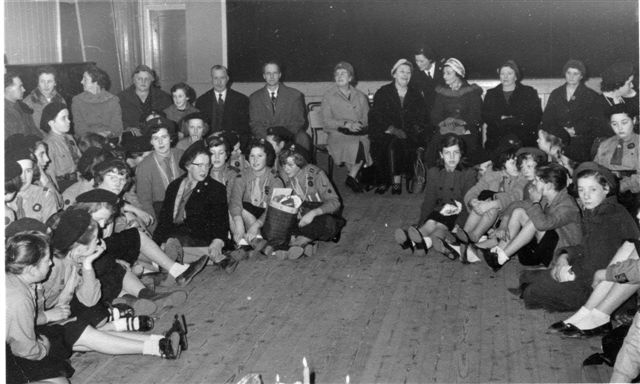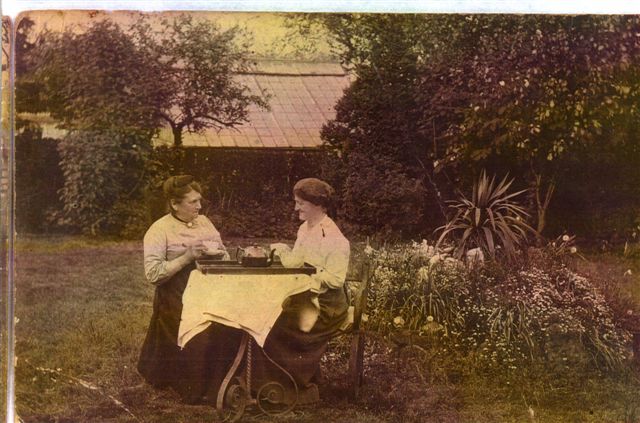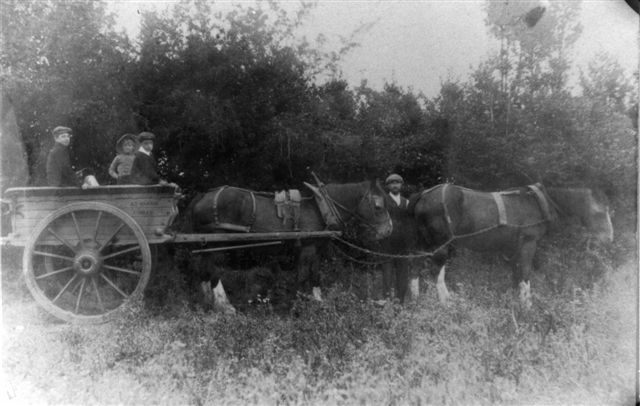 Photo above: Carrier Tom Docker. Charles Steeley was a carrier. A.T. Harris engraved on Cart. On days before public transport and cars, the only way to travel to Coventry or anywhere else was by foot - or by horse. The 'carrier' was used as a taxi service to transport people to different places and carry / deliver goods.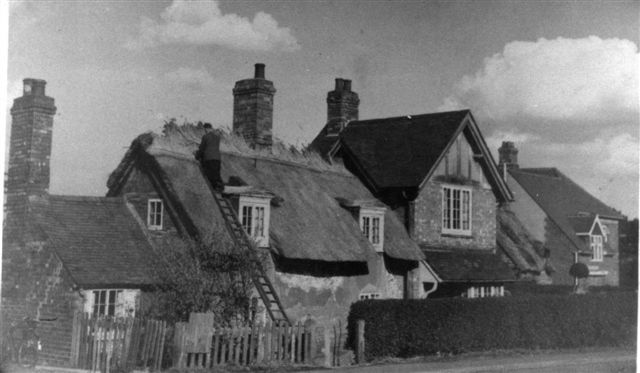 Above: Corley Cottage, being re-thatched.
Below: 1929-30. Corley Rocks - archealogical dig with 'Grandfather' Huckvale in hat and Charles Huckvale as a boy.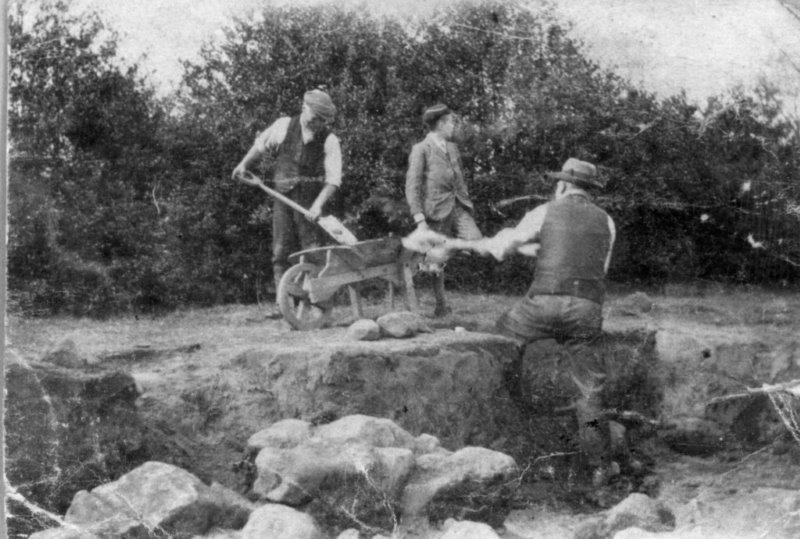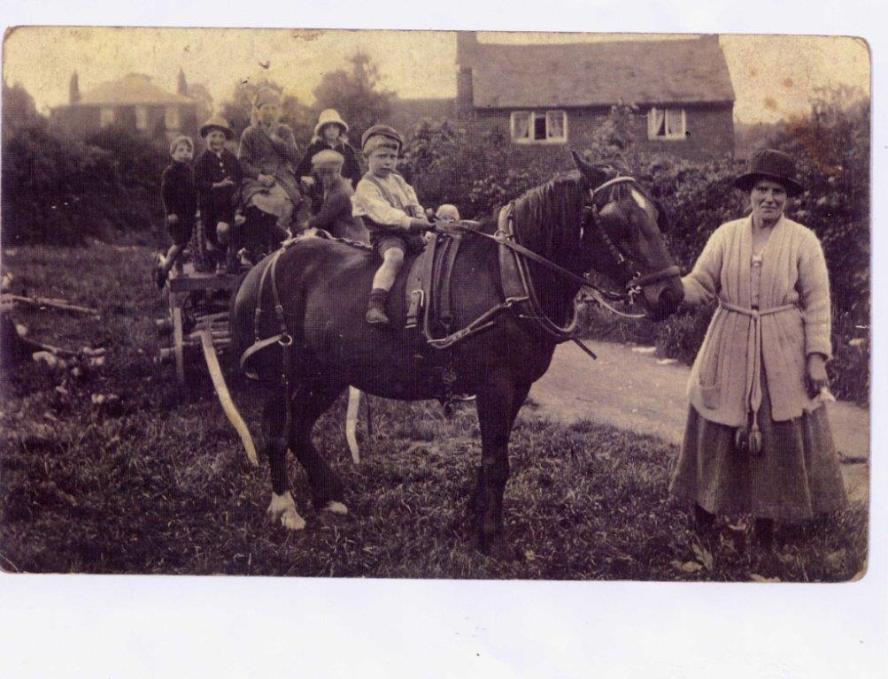 Photograph above: Gibson family. For more information - see book: 'I Remember Bare Bottoms & Stinging Nettles' which has a collection of old photographs and memories and history of village schools, including Corley, Corley Open Air School, Fillongley School, Astley School, the Arley Schools, Shawbury Industrial School, Maxstoke, Meriden and Little Packington.
Below - 1914 Noah's Ark Cottage, Corley Ash. Arthur Glover (child) on Nellie Glover and Arthur Glover. With neighours.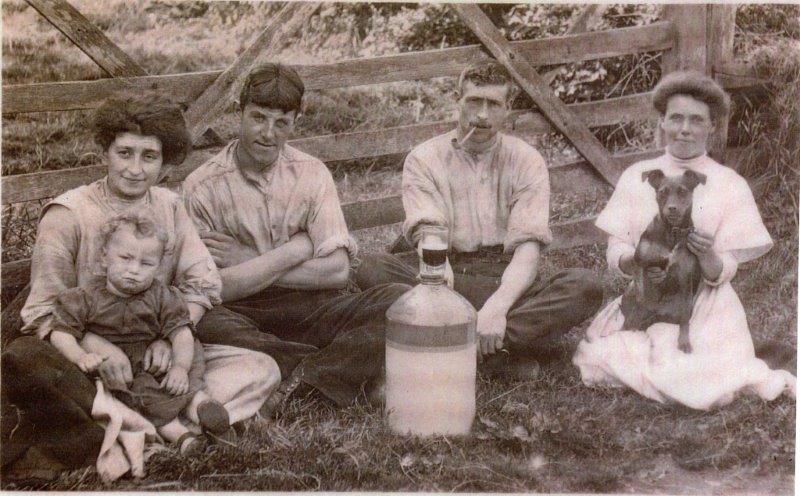 Below: 1914 Corley Tea Party of ex pupils. Hilda Barton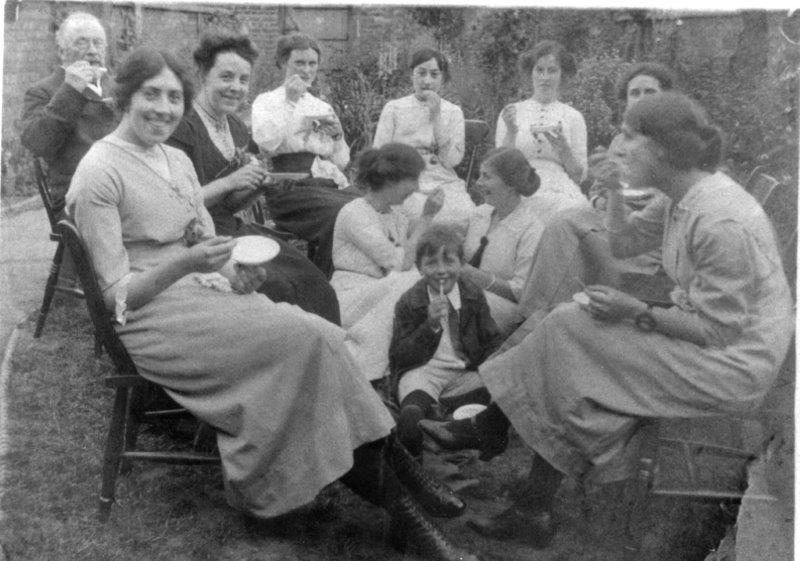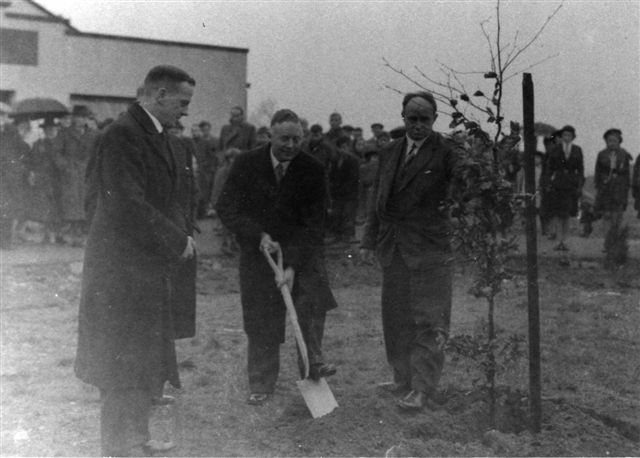 Left andBelow: 1947 Opening of Corley Village Hall by Lord Leigh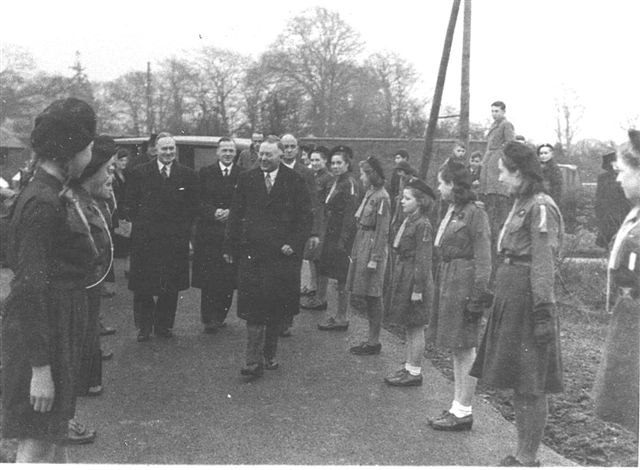 Above: Wedding Group 1925. Alice May Steeley from Church Cottages, Corley ASh-Square Lane. to George Spare, Astley. Bridesmaids: Minnie Green, Gertie Spare.
Below: Wedding as above: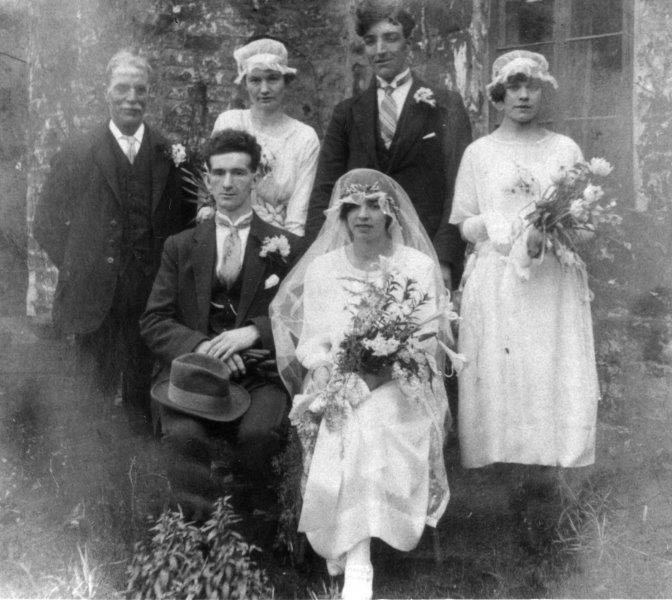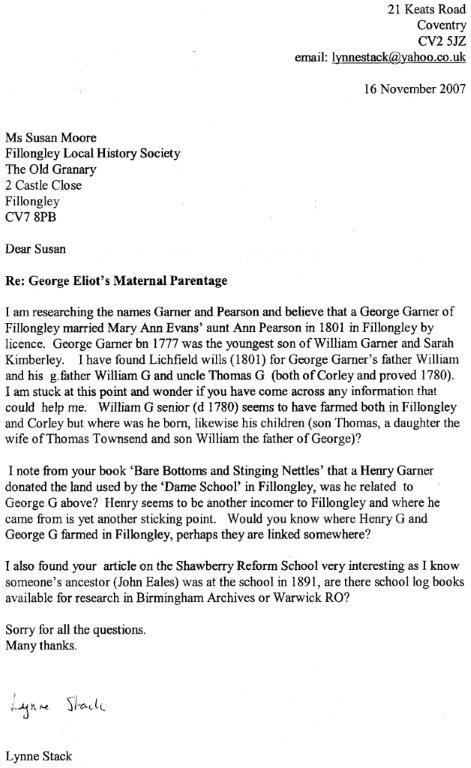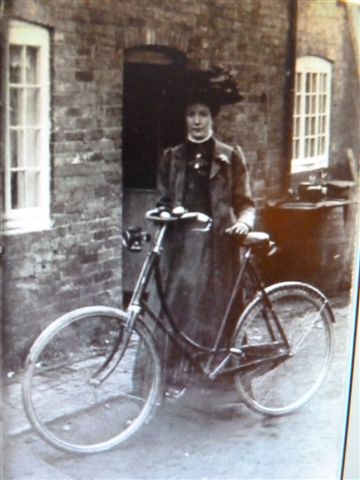 Above: 1910 Miss Mercer, Head of Corley School.
Below: (Nurse)Alma Cadman Nee Evrall. Born c1913, Marslands Farm, Corley.
Right: Group with lady with dog - no information.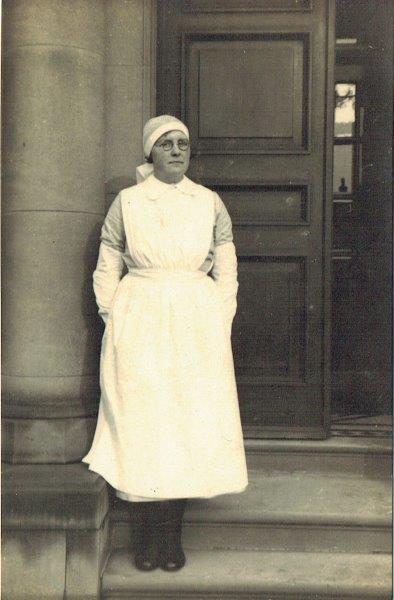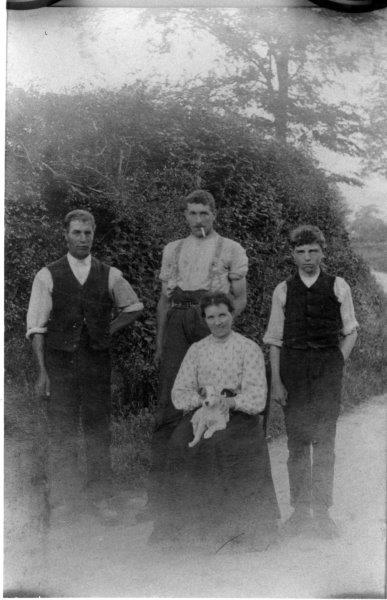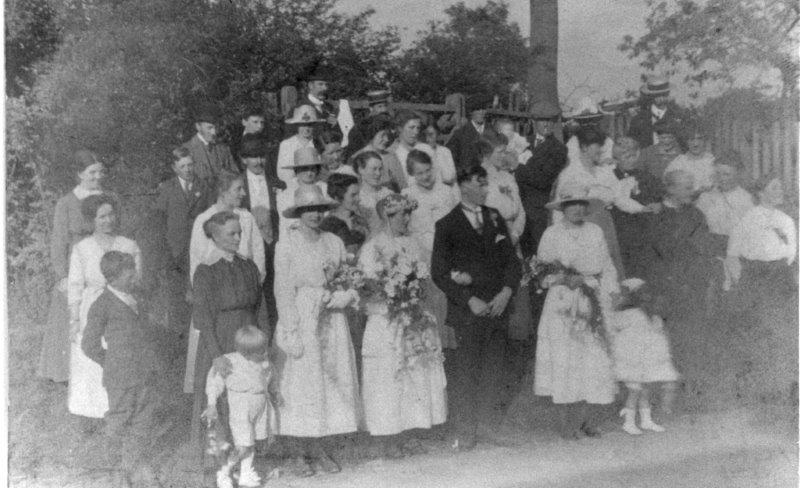 Above: Wedding Group: No information.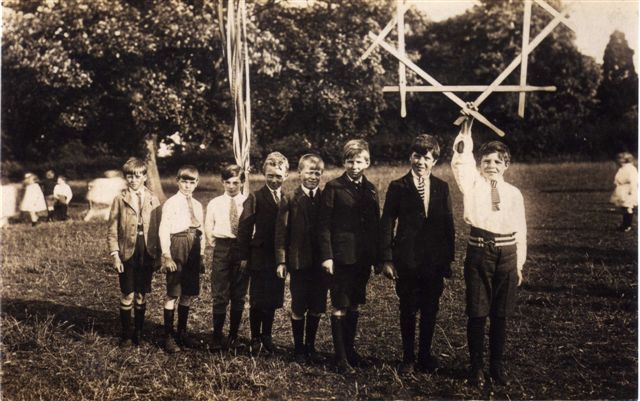 Above: 1922c. Dick Everall, Wally Courts, (?) Les Lines, Roland Gibson, Edgar Rice, Wal ?, Sid Woodward, Harry Seeley.
Below: c1916. Bottom of Corley Hill. Jenny Taylor, Mrs Henry Meek, Mrs William Glover, Mrs Ward, Mrs Dale. Please see a copy of the letter below, describing this photograph. (The picture was also in the book: I Remember Strawberries and Sewage.)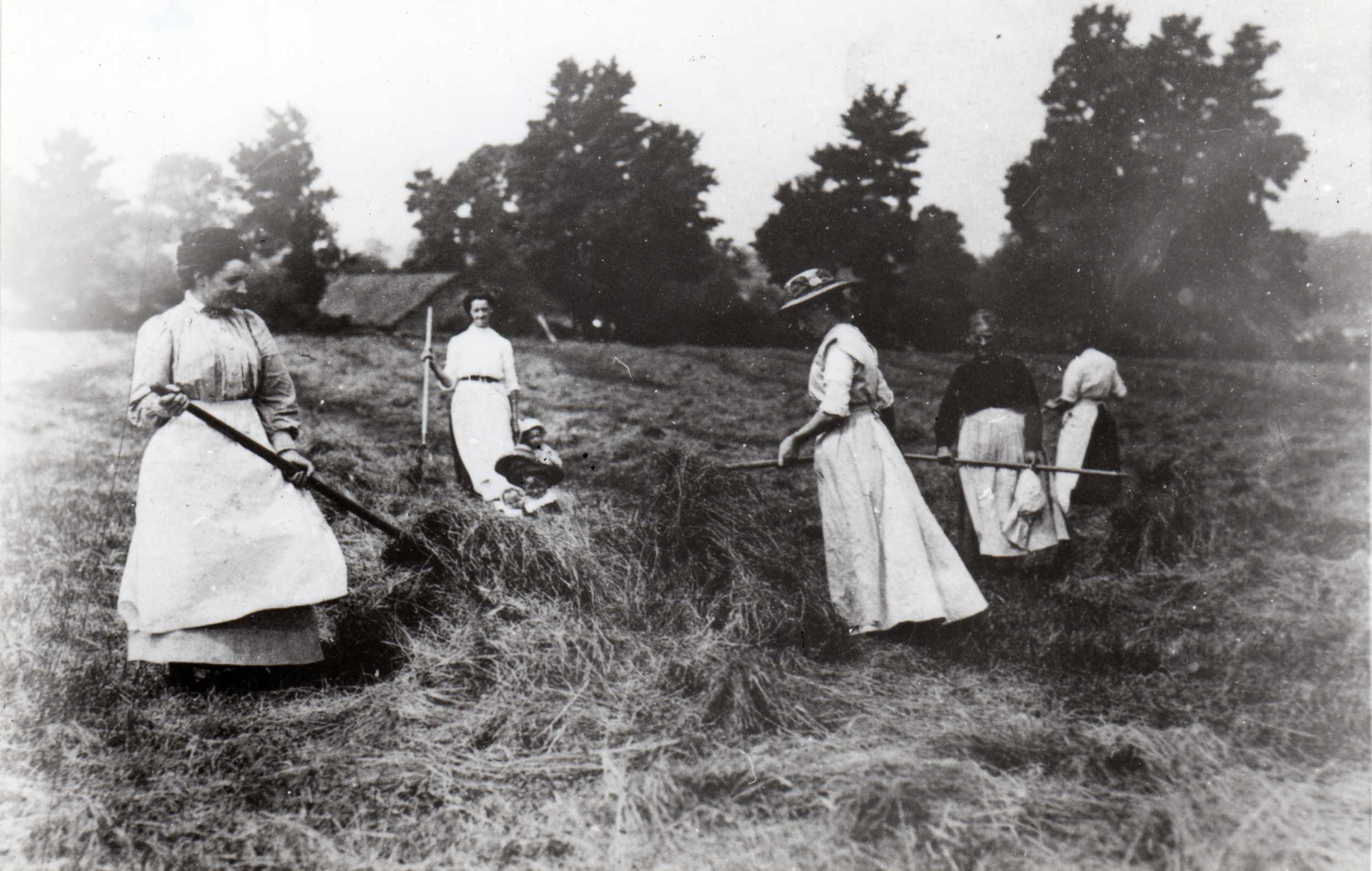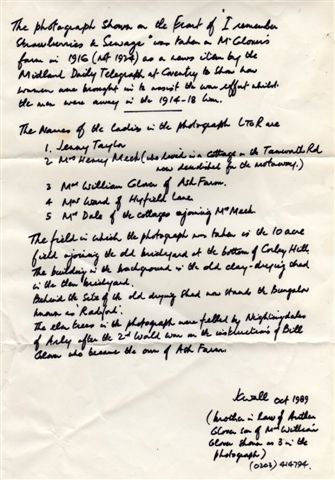 1948. Barbara Haywood, Nee Marlow, sitting on step of Corley post office. Barbara and her husband, Doug Haywood, went on to run Haywood Village Stores in Fillongley for many years and Doug played an important part in Fillongley as Parish Chairman.
Below: Corley Moor - Post Office and Village Stores.